My Blog
Posts for: April, 2015
By Jeffrey Baron, DMD
April 24, 2015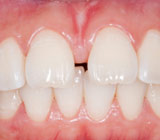 We all know Madonna, Seal, David Letterman, Anna Paquin and Michael Strahan (of the talk show Kelly and Michael). What do all of these celebrities have in common? Each has a "signature gap" between their front teeth. Given that they have been in the public eye for quite some time, it's not likely that these famous faces will choose to change their well-known smile. In fact, Michael Strahan has publically stated that he will never close his gap.
However, it is not uncommon for people to desire to fix a small gap in their teeth, particularly in advance of important events, such as weddings. Often times, fixing this small gap requires relatively simple orthodontic movements or tooth straightening. Since the teeth don't have to be moved very far, we can usually use simple appliances to correct the issue within a few months.
In order for us to determine your course of treatment, you'll need to make an appointment with our office for a thorough examination. When we examine you, we'll be looking for a number of items that will affect our treatment recommendation:
Is there enough room to close the space without creating other bite problems?
Are the roots of the teeth in reasonably good position to allow for minor tooth movement to close the space? X-rays will be required to make a proper assessment.
Is there an involuntary tongue habit that has pushed the teeth forward and created the gap? If so, this could be difficult to fix quickly.
Are the surrounding gum tissues and bone healthy?
Based on our assessment and your individual needs, we may recommend one of the following options:
Clear retainers, a computer-generated series of clear retainers customized for your bite to move the teeth
Removable orthodontic retainers to which we will attach small springs or elastics to facilitate the minor tooth movement
Traditional fixed orthodontic appliances (most commonly known as braces), small metal or clear brackets bonded to your teeth through which tiny wires are used to move the teeth
Regardless of the method we choose, once your teeth have moved into the new position, it is important for you to remember that they must be kept in this position until the bone stabilizes around the teeth. We may therefore advise you to wear a retainer for a few months to a few years, depending on your situation.
If you would like more information about orthodontic treatments, please contact us or schedule an appointment for a consultation. You can also learn more by reading the Dear Doctor magazine article "Minor Tooth Movement."
By Jeffrey Baron, DMD
April 09, 2015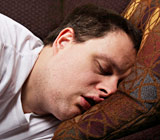 Nearly everyone has snored at some point in life. However, if your sleeping partner routinely tells you that you suffer from this problem, you really should take action to confirm or deny your suspicions. You may be like one of the 50 to 70 million people in the US alone that suffer from Obstructive Sleep Apnea (OSA), a medical condition in which the upper airway (the back of your throat) collapses during sleep thus limiting your intake of oxygen. And this condition is serious. If left untreated, OSA can lead to a stroke, impotence, an irregular heartbeat, heart attacks, high blood pressure, and other forms of heart disease.
The first and most important step you should take if you snore is to obtain a thorough examination by both your primary-care physician and our office. We have completed specialized training in sleep medicine so that we can not only diagnose but also thoroughly treat your sleep disorders.
If you are diagnosed with this problem, relax. We have many ways we can treat your condition. One of the most common methods is to provide you with oral appliance therapy. This first line of treatment involves our making a customized oral appliance (mouthpiece) that will hold your lower jaw forward. By doing this, we can move your tongue away from the back of your throat so that your airway is less likely to get blocked while you sleep. (It is this blockage that causes the infamous snoring sound.)
Another option we may consider using to treat your sleep apnea if it is moderate to advanced is a Continuous Positive Airway Pressure (CPAP) machine. These machines require you to sleep with a mask over your nose and/or mouth and produce continuous pressure in your windpipe so that your tongue is forced forward away from your airway. Not only can these machines potentially eliminate your snoring, but they can also give you the restful night's sleep that you have been missing.
The last and most permanent solution for treating certain non-responsive cases of sleep apnea is surgery. This option is typically reserved for the most advanced cases to eliminate or reduce an obstruction to the airway.
Contact us today to discuss your questions about sleep apnea or to schedule an appointment. You can also learn more about sleep apnea when you continue reading the Dear Doctor magazine article "Sleep Disorders & Dentistry."