My Blog
Posts for: September, 2018
By Jeffrey Baron, DMD
September 20, 2018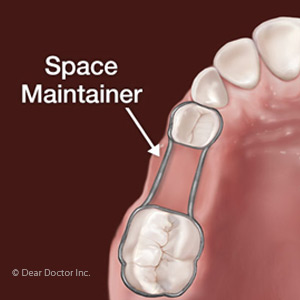 Children losing their primary ("baby") teeth is both natural and necessary. So, is it really that much of a concern if they lose one early?
The answer is yes — premature primary tooth loss could have long-term consequences for the permanent teeth as they develop within the jaw before eruption. Primary teeth play a crucial role in this development: as the permanent teeth form and grow the primary teeth serve as placeholders until they're ready to erupt. A natural process then takes place in which the primary tooth's roots dissolve (resorb) to allow them to fall out. Once they're out of the way, the permanent teeth can then erupt.
If, however, they're lost before the permanent teeth are ready, it leaves a space in the child's bite. The dynamic mechanism between teeth and the periodontal ligament causes adjacent teeth to move or "drift" into the space. This can crowd out the permanent tooth intended for the space, causing it to come in improperly forming a malocclusion (bad bite), or it may become impacted and remain partially or fully below the surface of the gums.
This poor dental development could lead to extensive orthodontic treatment later in life, which is why we seek to preserve even decayed primary teeth for their entire natural lifespan. If the tooth is lost, however, we need to take action to preserve the space for the permanent tooth and avoid costly treatment later.
This usually calls for a "space maintenance" appliance — a type of orthodontic "retainer" — worn by the child to prevent other teeth from drifting into the space. Designed by your orthodontist, the appliance can also perform a cosmetic and social function by causing the space to appear unnoticeable.
Maintaining that space requires monitoring — especially by an orthodontist — and continued dental hygiene and care both at home and at the dentist's office. The extra care preserving the space caused by premature tooth loss will help to ensure your child's dental structure develops properly and their future smile will be an attractive one.
If you would like more information on the care and treatment of primary teeth, please contact us or schedule an appointment for a consultation. You can also learn more about this topic by reading the Dear Doctor magazine articles "Early Loss of Baby Teeth" and "Losing a Baby Tooth."
By Jeffrey Baron, DMD
September 10, 2018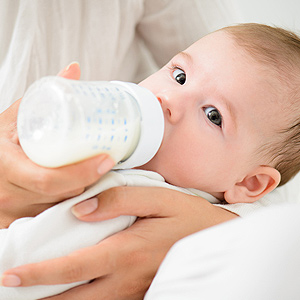 Tooth decay is an ever present danger for your baby's developing teeth. It begins with disease-causing bacteria feasting on leftover sugar, producing high levels of oral acid that slowly dissolves the teeth's protective enamel. The softened enamel then becomes an open door for decay to infect the tooth.
Meanwhile, those bacteria continue to eat and produce acid….
So how can you stop this devastating cycle? Besides daily oral hygiene and regular dental visits, the most important thing you can do is deprive bacteria in your baby's mouth of sugar through limiting their consumption of it. This means you'll first need to identify the different sources of sugar available to your baby—and some of them might surprise you.
Here, then, are 3 not-so-obvious sugar sources your baby might be consuming.
During feeding. If you're breast-feeding, you may not think this is causing a sugar problem for your baby. True, breast milk by itself doesn't promote decay: it's the combination of it with other sugar-rich foods and liquids the baby might be consuming as they get older. Together this could significantly increase their risk of pediatric tooth decay (also known as early childhood caries or ECC). So, be careful to limit sugar in other things they're eating or drinking in addition to nursing.
24/7 Baby bottles and pacifiers. To calm infants at nap or sleep time, parents or caregivers often use bottles filled with sweet liquids or pacifiers dipped in jam, syrup or sugar. This practice increases decay risk from both the added sugar and its constant availability to bacteria in the mouth around the clock. Instead, avoid this practice and limit any sugary foods or liquids to mealtimes.
Medications. Some medications an infant may be taking for a chronic illness may contain small amounts of sugar. Additionally, medications like antihistamines can reduce the production of saliva that's needed to neutralize acid after meals. If your child is on medication, ask your healthcare provider about its dental effects and if there are any sugar-free alternatives. Be sure to keep up daily brushing and flossing and regular dental visits too.
Limiting your baby's sugar intake is critical in preventing tooth decay. It's one of the most important things you can do to protect their dental health.
If you would like more information on helping your child avoid tooth decay, please contact us or schedule an appointment for a consultation. You can also learn more about this topic by reading the Dear Doctor magazine article "Age One Dental Visit: Why It's Important for Your Baby."